FREE QUOTE
Request Your Free, No Obligation Quote

FREE QUOTE
Request Your Free, No Obligation Quote

Average rating of 4.8 out of 5 stars from 363 reviews. 4.8   

Local Pest Control Experts For Corinth, TX
Corinth, Texas has a lot to offer: great schools, a friendly community, and beautiful weather. The hot, humid summers and cool, mild winters make it hard to resist living in this Dallas suburb. Unfortunately, these attractions also bring unwanted visitors. The Dallas-Fort Worth Metroplex is a hotspot for pests and infestation. Your home and business need protection from these unwanted intruders. That's where we come in.
Romney Pest Control is a local, family owned and operated business that provides top of the line pest control services to the people of Corinth and the surrounding Denton County communities. Our dedicated team is licensed and insured, so you can rest assured knowing you're in the absolute best hands. We offer regular treatments to help you maintain a pest-free property. If a pest reappears between scheduled visits, we will come and re-service the infested area at no extra charge. Contact us today to keep your home or business pest-free for good.
Residential Pest Control In Corinth, TX
Our residential pest control services are just what you need to treat and protect your home from infestation. Our experienced staff of certified pest experts detect the problem early enough to keep it under control. We search the interior and exterior of your home, noting all possible access points and sources of entry. After a thorough inspection, we perform a top-to-bottom treatment of the property to rid your home of any sneaky pests. We get rid of nests, webs, and any other evidence of potential pest activity. Once the entire property is cleared, we repair conducive conditions to make sure your pest problem won't return.
What Attracts Stinging Insects To My Corinth, TX Backyard?
Texas is home to a lot of stinging insects. The most popular ones in the area are carpenter bees, hornets, wasps, yellow jackets, and mud daubers. They're mostly found outdoors, and they feed on two things: other insects and nectar. Where can they find those food sources? In your backyard, of course.
Many stinging insects act as pollinators, and they prey on other insects, feeding on a wide variety of garden pests like cicadas, spiders, and other creepy crawlers. For those reasons, their presence may actually be a positive thing. Except, of course, for the stinging and the adverse health effects that may result.
Your Corinth backyard is full of conditions that attract stinging insects. There's plenty of space to nest and multiple sources of food. In addition to garden insects, they also eat compost and trash. Large numbers of them forage for food at once. Not only do they search for food, but they search for ideal nesting locations. They like to dig and burrow in areas with thin grass as they tend to nest near the ground.
So, there are many reasons that stinging insects are drawn to your home. There's a multitude of bugs and nectar-filled plants, there's the ample selection of places to nest, and there are a variety of food sources. Contact Romney Pest Control today so we can help you reduce these conducive conditions and prevent the continued presence of stinging insects.
Three Steps You Can Take To Avoid Termite Damage In Corinth, TX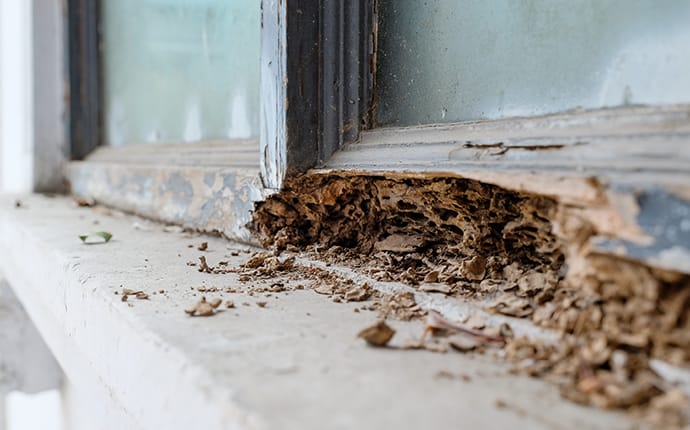 Another common pest in the Dallas metro area is termites. They present a real threat to the structural integrity of your home or business and cause billions of dollars in damage every year to property owners throughout the country. Therefore, it's obvious that you'll want to avoid an infestation at all costs. In order to avoid termite damage, you should follow these prevention tips:
1. Minimize moisture levels in your home; repair leaky faucets, fix faulty pipes, and manage drainage properly.
2. Store woodpiles a good distance away from soil and the foundation of your home.
3. Remove dead trees, branches, and shrubs. Maintain trimmed vegetation so pests don't use overgrown plants to gain entry into your home.
Of course, no single method of termite prevention is 100% effective. Your best bet is to call in the professionals. Here at Romney Pest Control, we offer regular termite treatments to the community of Corinth and the surrounding areas. We are proud to utilize the Sentricon® System with Always Active™ to destroy the entire termite colony and prevent future infestations from occurring. Call us today so we can rid your property of termites once and for all.
Commercial Pest Control In Corinth, TX
If you own a business in Corinth, you know how hard it is to stay on top of things. There are so many minute details that you have to worry about to keep your business afloat. The last thing you'd ever want is for your commercial property to suffer from a pest infestation. It puts you, your employees, your customers, and your business at risk, not to mention the damage it could do to your company's reputation.
The specialists at Romney Pest Control are ready to deal with your commercial pest control needs so you don't have to. From office buildings and restaurants to healthcare facilities and government municipalities, we are at your service. After a comprehensive investigation of your property from the inside out, we eliminate pest activity and exclude entry points in order to prevent a future occurrence.

"Awesome service and they keep their word. Rare these days to find a company that knows what customer service is all about. All this, quality products and at a reasonable price. Its a no brainer."


Romney Pest Control received an average rating of 4.8 out of 5 stars from 589 reviews.
Stay informed about pests and pest related issues in your area!
As small as they are, mosquitoes are some of planet Earth's most annoying and deadliest creatures. These pesky little insects are connected to more than one million deaths yearly. Mosquitoes aren't poisonous, but they can carry deadly diseases like West Nile...